Royal Wootton Bassett fire engine to be reinstated in glass case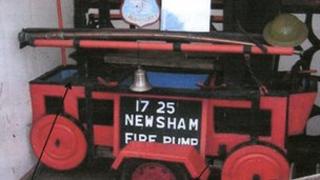 An 18th Century wooden fire engine encased in toughened glass is to go on permanent display in Wiltshire.
The 1725 Newsham manual fire pump was removed from under the Royal Wootton Bassett town hall in the early 1990s, when the building was refurbished.
Now, after being restored, the pump is to be reinstated complete with a protective cabinet and lighting.
Former mayor and firefighter Chris Wannell said: "It will be good to see it back there again."
In 1721 the British engineer Richard Newsham patented a "new water engine for the quenching and extinguishing of fires".
Small enough to fit down the narrow streets of 18th Century Britain, it was pushed to fires and used to pump continuous jets of water up to 40m (131ft).
The pump in Royal Wootton Bassett is a 1725 model but how it ended up in the town is "somewhat of a mystery", according to the council.
"It is suggested - it was brought from further north and the city fathers forgot to return it," a spokesman said.
The restored and reinstated pump is due to be unveiled on Saturday.
"The glass is specially toughened to keep the exhibit safe and the LED lighting will be on a timed switch to light up the fire pump in the darker evenings," the spokesman added.