Wife carrying championships appeal soldier inundated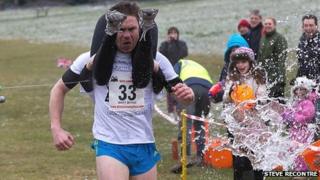 A soldier who put out an appeal for a "small wife" to be his burden in the World Wife Carrying Championships in Finland has been inundated with offers.
Matt Witko, from 3rd (UK) Division, is due to represent Great Britain at the weekend after taking the UK title with a wife "borrowed" from a good friend.
But with his partner unavailable to travel, the 32-year-old had to make an appeal for a last-minute replacement.
"I was inundated but I narrowed it down to one and now I have a wife," he said.
Captain Witko, who has completed three tours of Afghanistan, said his army training had equipped him to "carrying heavy weights and running with weights".
"I thought I'd be quite well-suited to wife carrying but unfortunately I don't have my own wife," he said.
"So I borrowed my good friend's wife for the UK Championships but she's got a young child now so I had to start looking for another one."
'A wife backpack'
For the championships, wives are carried over a purpose-built 253.5m (831ft) sand course with obstacles including a metre deep pool of water.
But, according to official rules, she "may be your own, the neighbours or you may have found her farther ahead".
"They [wives] are thrown around upside down, a bit like a backpack - it's called the Estonian method," admitted Mr Witko.
"And I just pick them up and run, so I was looking for someone who was willing to be carried, had a bit of core strength and who weighed between 49 and 54 kilos and was around 5 foot 4 tall."
With his appeal posted on the army's Facebook page and in the Finnish press, Mr Witko said he was "inundated with dozens of people" volunteering to go with him.
"In the end I decided to go with a British partner to try and represent the UK against the Finnish," he said.
"She's a former ballet dancer and aerobics instructor so has good core strength and balance.
"We haven't met yet but I'll be looking for the short, light person coming through arrivals."