Salisbury blessed with rose petals thrown from church tower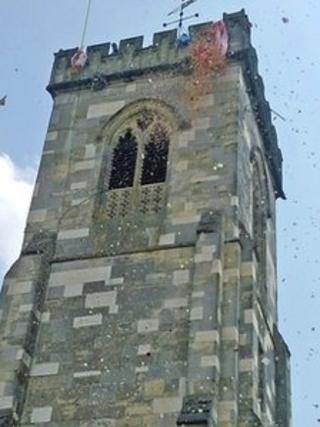 Up to 50kg (110lbs) of rose petals have been thrown from a church tower in Salisbury, in a blessing to the city.
The annual rose petal service has been held at St Thomas's Church annually for the past 30 years.
Described as a "recently invented ancient tradition", Canon David Linaker said it was "unique" to the church.
"All our parishioners raid their gardens and the city council allows us to go to the parks and take petals," he said. "And it's absolutely gorgeous."
According to the church, in the weeks running up to the special service a "great many people" are involved in gathering and drying rose petals.
'Very pretty'
And, following the Sunday service, the congregation gathers outside the church to witness the annual tradition.
"It's got to be pretty well timed otherwise they [the petals] are a bit awful by the time they get to the Sunday," said Mr Linaker.
"But if you keep them in a nice dry stable atmosphere they don't go too black.
"And as I prayer a prayer of blessing for the city, rose petals rain down on us from the tower above and it's very pretty as it all flutters down."