Road signs for Wiltshire hamlet of Tiddleywink stolen by thieves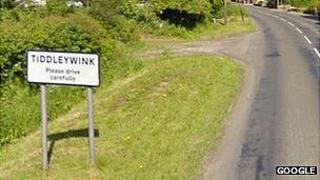 A Wiltshire hamlet with an unusual name has been left without road signs after they were stolen by thieves.
Two signs have gone missing at Tiddleywink, a grouping of eight cottages on the B4039 road, near the village of Yatton Keynell outside Chippenham.
Resident Cynthia Crocker said it would be "a shame" if they were not replaced.
Yatton Keynell Parish Council said it was not a regular occurrence and new signs were on order.
'Nonsense trophy'
Chairman Alastair Parker said: "People will nick anything these days. I've sometimes seen people being photographed by the signs.
"I can only think they took it for a nonsense trophy."
Councillor Parker said Wiltshire Police had not been informed.
Mrs Crocker said it always "raises a smile" to see the Tiddleywink signs on the way into and out of the area.
She said she "could not imagine" how someone could take the signs away without anyone noticing.