Swindon lap-dancing club 'set on fire by reversed car'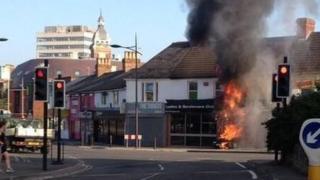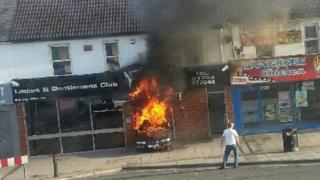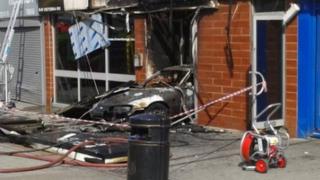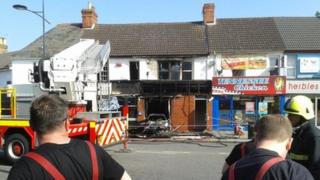 A "significant" fire at a lap-dancing club in Swindon was caused by a car being reversed into the building and set alight, the club's owner has said.
Emergency crews were called to the Dream Lounge club at 07:00 BST to find both the car and building ablaze.
Club owner Pete Rogers said his CCTV footage clearly showed the fire was started deliberately.
Wiltshire Police said the car's driver had left the scene before they arrived. No-one was injured in the incident.
'Stunned'
"I was upstairs doing some paperwork and heard a big bang. I came downstairs and saw a car embedded into the front of the building," said Mr Rogers.
"Somebody had actually reversed into the front of the building, jumped out of the sunroof, poured petrol on the car and set fire to it.
"I didn't see it but I've seen it on CCTV since. I'm stunned."
Parts of Victoria Road and Regent Circus had to be shut by police while the fire was put out and building made safe.
The gentleman's club is open from 22:00-04:30 on Friday nights, according to its website.
Mark Fuller, from Wiltshire Fire and Rescue service, said: "We were confronted by a very fierce fire that was spreading into the building and up to the first floor with flames as high as the roof."
He described it as a significant fire and said that superficial damage had been caused to the front of the club.
Wiltshire Police sergeant Mark Simpson said: "We are conducting a thorough investigation with colleagues from Wiltshire Fire and Rescue, including analysis of CCTV in the area.
"We know that there were several people in the area shortly before the car hit the building and I would like to hear from anyone with information."