Eddy Shah 'considered suicide' after rape arrest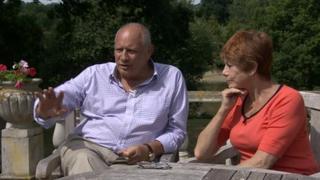 Former newspaper boss Eddy Shah has spoken of how he considered suicide when he was accused of raping a schoolgirl.
Mr Shah, 69, was found not guilty of six counts of rape on Friday following a trial at the Old Bailey.
Speaking at his home near Chippenham, Wiltshire, with his wife at his side, he said family had become important to him for the first time in his life.
"The family just absolutely glued together," he said.
Mr Shah said he thought about suicide "a lot" following his arrest and his family helped him through.
'Selfish person'
"You don't ever have good thoughts," he said. "You joke with people and laugh and try to cheer other people up because they're nervous around you, but deep down it's horrible."
He said: "I've never been a great family man, I've just relied and trusted in my family to be there because I'm a selfish person.
"The family became closer after that and we've become a unit because they believed me on this one [the rape trial] in that I wouldn't do the sort of things I was accused of. I could not have done it without them."
Mr Shah, who owns hotels and a golf course in Royal Wootton Bassett, estimated the case had cost him millions of pounds.
People stopped playing at the golf course and staying at the hotels because they were associated with him, he said.
Mr Shah said he had hardly gone out in the 22 months since his arrest.
"You would feel people staring at you all the time, even if they weren't. You felt as if you were a paedophile, which you're not," he said.
The trial had heard Mr Shah paid for sex with co-defendant Susan Davies, who was accused and later cleared of procuring the girl.
'Married 42 years'
The offences were alleged to have happened when the girl was between the ages of 12 and 15.
Mr Shah maintained he met the girl twice in hotels while she was accompanied by Ms Davies but never had sex with her.
The jury heard Ms Davies describe how she had a relationship with Mr Shah for several years, but claimed that it never felt like she was working as a prostitute.
His wife, Jennifer White Shah, said: "You don't really want to sit in court and listen to details about your husband's sex life. He's standing there in the dock, it's an awful thing.
"You have to get on with it because there's no option. You do it, and what a great result."
She said: "We've been together too long to start again. We've been married 42 years and together 44."
The businessman has said his biggest concern when the allegations came to light was having to admit to his wife he had used a prostitute.
"That was just a silly man who did silly things for a while," he said.
"I'm very lucky that I've got a family. I can't explain how important that's become to me."