Gloucestershire wildlife rescue centre to move to former RAF base in Wiltshire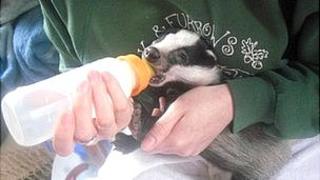 A wildlife rescue centre which has outgrown its Gloucestershire home is to move to a former RAF base in Wiltshire.
Oak and Furrows was founded in 1994 in a shed near Cirencester but with more than 3,000 wildlife casualties a year it has been looking for a new home.
Wiltshire Wildlife Trust, which owns RAF Blakehill near Cricklade, has offered the charity a "corner of it".
Stuart Forrest, from Oak and Furrows, said: "We want to move in October when we're down to 100 animals and birds."
Blakehill, a former RAF airfield and government research centre was bought by the Wiltshire Wildlife Trust (WWT) in 2000 and is now a 240-hectare wildlife refuge.
Now, on land the WWT said it "does not use as part of the reserve", Oak and Furrows is planning to build a new £200,000 rescue centre including wildlife hospital, staff and education facilities.
'Worthy cause'
Amanda Callard, from the WWT said it was delighted to offer Oak and Furrows a "much needed home".
"There are issues that still need to be formalised, such as funding and planning consent," she said.
"But certainly in principle, we are very pleased to be able to give such a worthy cause a home with us."
Ray Hood from Oak and Furrows said he was confident the trust would be "excellent landlords" and they could work together.
"We are very pleased and grateful to be entering into a partnership - that will secure the future of wildlife rescue and enable us to continue our work," he said.