Plans submitted for 'large' solar farm in Wiltshire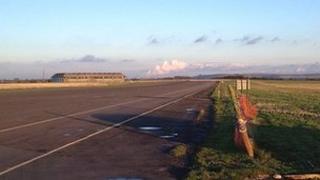 Plans to build one of the largest solar farms in the UK on an old airfield near Swindon, have been submitted by developers.
Swindon Commercial Services (SCS) wants to put 160,000 solar panels on 200 acres of a former RAF site, now owned by The Science Museum at Wroughton.
SCS, a company owned by Swindon Borough Council, said it could create enough energy to power about 12,000 homes.
It has teamed up with the Science Museum to develop the £50m project.
'Largest solar farm'
The Science Museum took over the airfield in the 1970s and uses the site's hangars to store more than 16,000 large objects not currently on display in London.
According to SCS, the proposed solar farm is expected to generate 38 gigawatt hours (GWh) of energy a year and is currently the largest being planned in the UK.
The council's closing date for consultation responses is 7 August.
It was announced last month that public services in Swindon are to be returned to the control of the local authority after SCS, the company it set up to manage them, proved unprofitable.
SCS has managed services such as waste collection, pothole repair and street cleaning for the local council since 2010, but will now concentrate on renewable energy projects.