Swindon man ill after taking 'small green pill'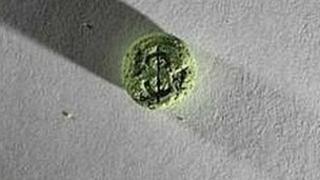 A 23-year-old man is in a critical condition in hospital after taking a drug believed by police to be a "small green pill with a dollar sign on it".
The man, from Swindon, was taken to the Great Western Hospital in the town after his temperature soared.
Officers said forensic tests were being carried out on the tablet to "ascertain what type of drug it is".
Det Ins Lisa Clarke said: "What is really disturbing is the sheer pace at which this man's health declined."
She added: "I am concerned that there may be a quantity of contaminated illegal drugs in our communities which, if unchecked, could result in further illness."
Anyone who has taken the drug in the last few days is being urged to seek immediate medical attention.
Police are also asking anyone with information on where it is being sold to contact them.