Swindon dog dancing documentary wins Costa Rican film award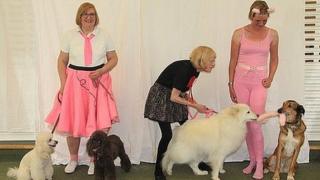 A documentary about a dog dancing school in Swindon has won an award at the Costa Rican film festival.
The 40-minute film, edited at a kitchen table, follows two amateur enthusiasts as they get to grips with the sport with trainer Angela Richens.
It won best short documentary and for director Donna Lipowitz it was one of her "proudest achievements".
But Ms Richens said despite being one of its "stars" she could only give it eight out of 10.
Filmed over six months, last summer, the documentary followed Ms Richens as she tried to teach novices Carol Walker and Victoria Watkins.
"The original idea was to follow them on their journey from beginner to performing in their first show, perhaps at Crufts," said Ms Lipowitz.
"But I soon learnt that it could take years for someone to achieve that - so I was looking for a journey for the characters."
'Just silly'
Striving to reach their goals, Ms Walker insists throughout the film that her dog Bonnie "can dance but not always at the right time or in the right place".
Ms Watkins, who entered her first show last autumn and came second, said it had been "absolutely fantastic" to be in the film.
"It's very controversial - people say dog dancing is just silly," she said.
"But it's really rewarding for the dog and owner - and they [the dogs] absolutely enjoy it."
Despite the positive feedback, Ms Lipowitz said it had been "nerve wracking" when it was previewed by the owners and their dogs at a private screening last year.
'Audience of dogs'
"It was always on my mind that it would have been easy to poke fun," she said,
"So I was so pleased that everyone enjoyed it.
"And it has such funny moments like Carol's dog Bonnie eating the microphone when we weren't looking."
But Ms Richens, who was a semi-finalist with her toy poodle Teddy on ITV's Britain's Got Talent, said she had only been able to give the film an eight out of 10.
"The sound was not as clear as it could have been in places," she said.
"But knowing the people in the film I can truthfully say that Donna has really captured the personalities and characters."
The film is due to be screened to an "audience of dogs and their owners" in Swindon at the end of August.