Wiltshire councillors' allowance review criticised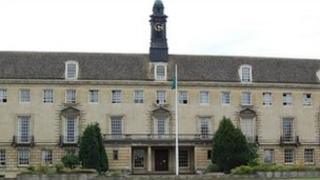 A review of Wiltshire councillors' allowances has been criticised as it could result in an increase.
Independent councillor Terry Chivers said it was "bad timing" while the council was making redundancies.
But deputy leader John Thomson said the independent reviewing panel could equally decide to reduce allowances.
The basic allowance is £11,403, but most councillors get more by making additional claims. Leader Jane Scott received more than £47,000 last year.
Earlier this week the council discussed a four-year business plan which projects budget cuts of £122m.
Last week, the authority accepted 220 staff applications for voluntary redundancy as part of plans to cut 400 posts from the workforce.
'Wrong messages'
Mr Chivers said: "You cannot be cutting services, you cannot be sacking staff, and giving yourself a pay rise.
"It sends out all the wrong messages to our staff and to the public.
"I think all councillors work very, very hard, I'm not saying we don't deserve a rise.
"Being a councillor at the low rate of allowances we get does put an awful lot of people off being a councillor and it actually bars some people from being a councillor.
"I just don't think we can justify [a rise] at this present time."
Mr Thomson said: "I believe it was last reviewed in 2009 because it was a new unitary council and we had gone down from 250 councillors to 98, which I think has led to nearly £3m of savings in members' expenses and allowances.
"We guessed some of the rates for people and it was felt that after four years, when it had all settled down, we needed to have an independent panel to make sure we were not paying people too much, that people were getting the right rates."
The results of the review will go before the council in November.
Mr Thomson said: "I will be voting against any increase at this stage, but there's 98 members and they can make the decision themselves.
"I think a lot of people who are councillors do it because they want to put something back into society, I don't think they do it for the money.
"The money is meant to make sure you're not out of pocket for the time you put in."