Power cut stops stadium concert in Swindon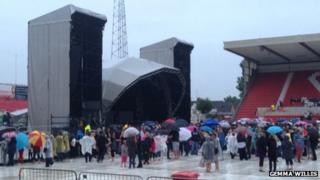 A concert in Swindon featuring Peter Andre, Atomic Kitten and Blue was stopped for more than an hour after it suffered a power outage on Saturday.
More than 3,000 people attended the Big Reunion Tour gig at the County Ground Stadium, and many walked out before power was finally restored.
There was also anger from people who had paid £50 for a ticket before prices were reduced to £10 due to poor sales.
Organisers of the concert said they "accept there have been issues".
In a message on the event's official Twitter feed during the power outage they "sincerely apologised" for the situation which they said was "out of their control".
One concert-goer, Gemma Willis from Swindon, said: "We were just [sitting] there when it all went off, and it went silent. We [were] there for over an hour, cold and wet."
Tracey Griffiths, from Swindon, said the sound quality was "shocking".
Ticket prices were also reduced due to poor sales at an earlier concert at the stadium on Friday which featured Katy B and Tinchy Stryder.