Refunds refused after power cut stops Swindon concert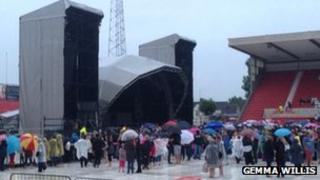 Organisers have refused to offer refunds after a Swindon concert featuring Peter Andre and Atomic Kitten was disrupted by a major power outage.
More than 3,000 people attended the Big Reunion Tour gig at the County Ground Stadium on Saturday which was delayed for more than an hour by the power cut.
Many walked out before electricity was finally restored.
Promoters said the power outage was an "act of God" and most people "appeared to have a really good time".
Some people were angry after spending £50 for tickets which were later reduced to £10 because of poor sales.
A spokesman said where possible people who originally paid full price for a ticket were upgraded to better seats.
One concert-goer, Gemma Willis, from Swindon, said when the power outage occurred: "We were just [sitting] there when it all went off, and it went silent. We [were] there for over an hour, cold and wet."
Tracey Griffiths, from Swindon, said the sound quality was "shocking" and she left after the power went out. She said she was told by organisers at the event to contact them later for a partial refund.
Mark Isaacs, stadium manager at Swindon Town Football Club said despite the problems, the club "would be happy" to work with the concert organisers again.
"But we would make sure there were were assurances that certain things were in place before we got to the point we were last week," he added.
Ticket prices were also reduced due to poor sales at an earlier concert at the stadium on Friday which featured Katy B and Tinchy Stryder.