Swindon HMV to reopen five months after closure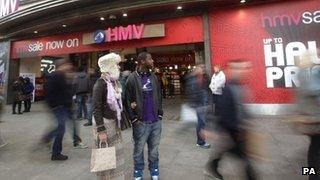 Music, game and DVD chain, HMV, is to reopen its Swindon store just five months after it closed.
It was one of 36 less profitable stores it closed around the country citing competition from online retailers.
The store, located in Regent Street, will reopen on 22 August on just one sales floor, instead of the three it previously traded on.
Regional manager Lawrence Price described the reopening as "absolutely fantastic" news.
He said it was disappointing when it closed because it was "always a really popular store with many loyal customers" but was a "borderline profitability" outlet.
Mr Price said the company has "put in a lot of work" to rethink its sales policy and the store will be "trading on better terms that have been negotiated".
He said some of the staff affected when the store closed in March were redeployed within the company, but he hopes some who were made redundant will be re-employed.
Clare Prosser, of Swindon Chamber of Commerce, said: "It's great news that a traditional shop such as HMV is reopening with a focus on their core products of CDs and DVDs.
"This can only help revitalise the shopping experience in Swindon town centre and will hopefully attract new shoppers."