Stone curlew found outside supermarket in Devizes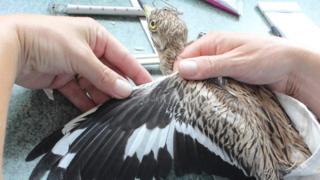 One of Britain's rarest birds has been found outside a supermarket in Devizes.
A member of the public spotted the young stone curlew at a supermarket and took it to a veterinary clinic after mistaking it for a bird of prey.
It was then passed to Wiltshire Wildlife Hospital who recognised the breed and called the RSPB for advice.
Marilyn Korkis, who runs the hospital, said: "I couldn't believe it when I saw it. It is such an unusual bird and a privilege to see it close up."
'Highly vulnerable'
Ms Korkis said she contacted the RSPB immediately to ask where the bird should be released.
Nick Tomalin, from the RSPB, said: "Stone curlews are highly vulnerable to disturbance and are usually found in areas well away from roads and footpaths.
"This bird would have been just learning to fly, so it was essential that it was returned to a suitable location as soon as possible, to be with other stone curlews."
He added that some of the birds would now be gathering together in roosts before migrating to southern Spain or north Africa in the autumn.
The creature has since been released and Mr Tomalin said it had been spotted by RSPB staff feeding in the area with other stone curlews.
Stone curlews are one of the UK's rarest breeding birds and their wary nature, camouflaged plumage and nocturnal habits mean they are rarely seen in their normal habitat.
The birds visit southern England during the summer and prefer dry, open places with bare, stony ground.
The RSPB said there were about 400 pairs of stone curlews in the UK.