Stonehenge 'road chaos' concern after A344 closure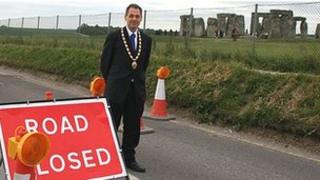 The closure of a main road running alongside Stonehenge has caused increasing traffic gridlock around the monument, it has been claimed.
The A344 next to the stones was closed in June and dug up to "restore the dignity" of the World Heritage Site.
Mayor of Amesbury Ian Mitchell said the A303 was "not coping" with traffic, which is "spilling out" into villages.
English Heritage said the road closure issues had all been addressed at public inquiries two years ago.
In November 2011, roads minister Mike Penning approved plans to close an 879m (2,884ft) section of the A344 from its junction with the A303 at Stonehenge Bottom.
A month later, Conservative-run Wiltshire Council approved a traffic regulation order for the remainder of the road to Airman's Corner.
But Mr Mitchell, also Conservative, said traffic is now queuing back for miles on the A303 and is causing "chaos".
'Sensible solution'
"I don't know how much traffic has come off the A344 but the A303 is certainly not coping with it," he said.
"We're particularly concerned now because we find that traffic is finding its way back to Amesbury centre and spilling out into Larkhill as well to get around this block.
"The issue is going to be taken forward to the Amesbury area board in September and the Stonehenge Chamber of Trade - so I'm hopeful we can get enough people pushing on this, so that we actually get a sensible solution."
The Highways Agency said, in a statement, that it was "implementing changes to the road network which are part of the English Heritage management plan for the world heritage site".