Vigil held at former RAF Lyneham chapel of rest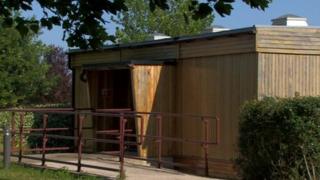 Hundreds of people have held a vigil outside the former RAF Lyneham base in Wiltshire in protest at plans to demolish its chapel of rest.
Among them were the families of fallen soldiers who were repatriated through the airbase.
The military base was shut last year and the Ministry of Defence plans to demolish the timber-clad building to allow for the site's redevelopment.
The MoD said the chapel was a temporary structure and cannot be moved.
But a spokesman said it would create a garden of remembrance on the site.
Commemorative plaque
He said it would be publicly accessible and form part of the Royal Electrical and Mechanical Engineers' Museum of Technology, which would be relocated from its current site at Bordon, Hampshire, as part of the proposals.
"The garden of remembrance will reflect the role played by Lyneham as an RAF base in repatriating military personnel from operations.
"It will also be home to the commemorative plaque that is currently situated in the chapel," he added.
The chapel was the first place many bereaved relatives saw their loved ones after their bodies were returned to the UK.
Campaigners argued the chapel was "not just a building" but a place of sanctity, a safe haven, and a sacred place.
An online petition urging the MoD to stop the demolition process has attracted more than 4,600 signatures.