Swindon biomass plant decision is deferred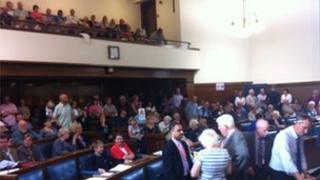 A decision over whether a biomass plant can be built in Swindon has been deferred by councillors at a meeting held earlier.
The application has been opposed by some who say the plant will cause smoke and increase traffic congestion.
Wood that cannot be recycled will be burned to create heat and power to process wood chips and animal bedding.
Further inquiries will be made by council officials into the plans before it is considered again.
Smoke worries
The plant had been recommended for approval with conditions attached by officers.
If built it would be located on the Cheney Manor industrial estate near to a household recycling centre. It is also near to residential areas.
A transport report has estimated there would be about 55 lorry trips a week.
Pure Green Limited, which is behind the plans has said it will create 50 full-time jobs. At the peak of construction there will be about 200 people on site.
There have been concerns over the emissions, which would come out of two chimneys at the plant.
They would be 20m (65ft) and 30m (98ft) high.
More than 100 protesters attended the meeting held at Swindon Borough Council offices on Tuesday afternoon.