GP Davinder Jeet Bains erased from medical register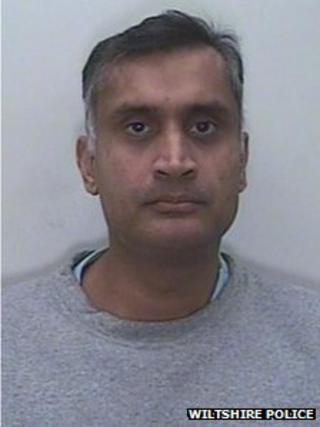 A doctor from Wiltshire who was jailed after secretly filming intimate examinations of patients has been erased from the medical register.
Davinder Jeet Bains pleaded guilty to 39 sexual offences in May this year. He was sentenced to 12 years in prison.
The 45-year-old, who worked as a GP at a practice in Royal Wootton Bassett, filmed the attacks using a spy watch.
A Medical Practitioners Tribunal Service (MTPS) panel also ruled he was unfit to ever practise medicine again.
Bains, who was placed on the sex offenders register for an indefinite period following his conviction, was not present at the hearing in Manchester.
In his absence, chair David Kyle said Bains' actions were a "gross abuse" of trust and of his position as a doctor.
"The panel has determined that erasure is the only means of protecting patients and maintaining public confidence in the profession," he added.
'Risk of repetition'
"The offences for which Dr Bains was convicted were serious in nature given that his conduct was sexually motivated; it involved a large number of female patients, including two who were under 16 at the time; and it extended over a considerable period of time.
"All that can be said in his favour is that there are no previous disciplinary findings against him, which carries little weight when set against the aggravating features of his case.
"Consequently, the panel has formed the view that there remains a high risk of repetition of such behaviour in the future."
Mr Kyle said Bains' behaviour, with "accompanying lack of insight", showed him to have "deep seated attitudinal problems".
"In these circumstances, the panel has concluded that the nature of Dr Bains's convictions, together with his behaviour which led to them, are so serious as to be fundamentally incompatible with his continuing to be a registered medical practitioner," Mr Kyle added.
Admitted charges
"The panel has determined that erasure is the only means of protecting patients and maintaining public confidence in the profession".
His activities were uncovered after a complaint from a woman who thought she had been filmed.
Police raided the Tinkers Lane Surgery, where they found the wristwatch. They later found more than 360 video clips.
At an earlier hearing in March, Bains of Nyland Road, Swindon, admitted various sexual assault and voyeurism charges and asked for 65 further offences to be taken into account.
Bains, who qualified as a doctor in 1993, previously worked at Swindon's Great Western Hospital.
He is free to apply to be restored in the future if he can prove he is fit to practise - the MTPS panel said an immediate order of suspension has been imposed to cover the 28-day appeal period.