Wrecked motorbikes given for Wiltshire road safety campaign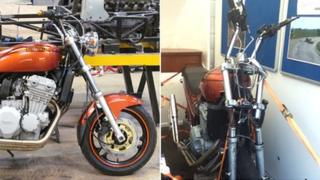 Two wrecked motorcycles involved in fatal collisions in Wiltshire this year have been donated to the police.
The riders' families have given permission for the bikes to be used by police bidding to reduce the number of deaths on the county's roads.
Craig Hardy, from Wiltshire Police, said they would be taken to public events such as Sunday's emergency services show at Hullavington Airfield.
In the last five years 30 motorcyclists have died on Wiltshire's roads.
One of the damaged bikes belonged to Chris Dicker, 51, who was killed in April when his Triumph collided with a car in Ansty near Salisbury.
His partner, Claire Gosling, said she was keen for something positive to come out of his death.