Stonehenge congestion upsets nearby village residents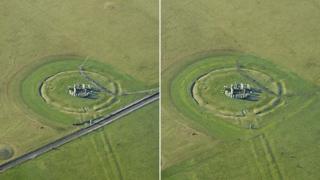 People living near Stonehenge say their villages are being used as a rat-run following the closure of a main route which used to pass the stones.
The A344 was shut in June to "restore the dignity" of the world famous stone circle site as part of a £27m project.
But people living in Shrewton, Bulford and Larkhill have claimed the road's closure has made their villages busier.
Shrewton Parish councillor Ken Lovelock, who is blind, said he felt "unsafe" walking through his village.
'Small village'
English Heritage said closing the route would help Stonehenge become a better experience for visitors.
But an increase in traffic on the single-carriageway A303 is now being blamed for adding to the concerns of local village residents.
Carole Slater, chair of Shrewton Parish Council, said: "The biggest concern is the traffic flow which is not just ordinary passenger cars but heavy vehicles trying to find a better way to avoid the Longbarrow roundabout.
"It is only a small village. It doesn't have any footpaths in the most congested area."
She said the A344 closure was not purely to blame, as there had also been an increase in tourist numbers to Stonehenge and a hot summer had meant more people were holidaying in England.
Wiltshire Council has said it is looking at better signage for the Longbarrow roundabout on the A303.
But Mr Lovelock said he believes more is needed and he would ideally like to see two flyovers created on the A303 as well as sections of the carriageway being doubled up.
"If it saves one life then it's worth it," he added.
For 20 years business leaders locally have campaigned for the dualling of the A303, saying cutting congestion is vital for the West Country's jobs and tourism.
The concerns are being discussed at a meeting of the area board at Shrewton's Recreation Hall later.