UTC Swindon starts student recruitment drive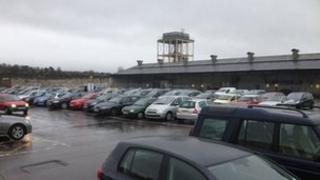 A student recruitment drive for Wiltshire's first university technical college has begun a year before its planned opening.
The drive to recruit 300 students has been launched ahead of building work beginning on UTC Swindon's £10m campus.
The college will offer engineering and enterprise courses alongside the national curriculum.
Swindon Borough Council leader David Renard said it would help make young people "ready" for work.
The college, which will be built on the former Swindon Railway Works, will initially offer 150 places each on GCSE and A Level courses.
The joint project between Swindon College, Oxford Brookes University and local firm Johnson Matthey Fuel Cells will eventually offer 600 student places for 14 to 19-year-olds and is due to open in September 2014.
Mr Renard said the courses would give young people new skills, including "basic things".
"In some cases, it's things like turning up for work on time [or] being prepared to put in a full day's work - these are the sorts of skills that they will be learning," he said.
The recruitment drive will involve open evenings taking place across Wiltshire until Friday.