North Wiltshire's dementia backlog is cleared by trust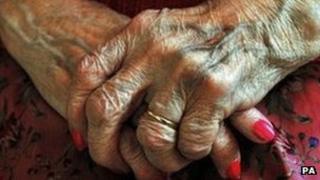 The backlog of dementia patients in north Wiltshire has been cleared after changes to support services.
Avon and Wiltshire Mental Health Partnership said it has seen all 207 patients in the past six months.
A year ago, Trowbridge Alzheimer's Support said memory services were at "breaking point" with people having to wait over a year to be diagnosed.
More clinics, new staff and allowing GPs to diagnose and treat some forms of dementia have helped clear the lists.
Tackling stigma
Dr Paul Bown, from the trust, said: "With the new model that GPs have agreed, we're now in the position whereby once we undertake assessment we can initiate treatment and then put people back to their GPs in most cases.
"If people require more specialist medication we can keep them within our service."
Patients can now expect to be seen within four weeks for an assessment and 13 weeks for treatment.
The improvements have been welcomed by Alzheimer's Support in Trowbridge.
Anna Littlechild, the chief executive of the Trowbridge branch, said: "There have been quite a few changes over the last year - the clinical commissioning groups have really taken dementia under their wings, they're putting money into services that was drastically needed."
She added that putting specialist nurses into GP surgeries would also go some way in tackling the stigma around dementia and increase diagnosis rates.