Richard Holmes inquest: Scientist took own life amid bullying probe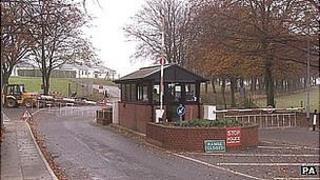 A scientist under investigation for bullying at a military research laboratory in Wiltshire took his own life, an inquest has heard.
Dr Richard Holmes, 48, resigned from the Defence Science and Technology Laboratory in February 2012 ahead of a planned disciplinary hearing.
He had been suspended from the government lab at Porton Down and was facing allegations of gross misconduct.
The coroner concluded he "took his own life while suffering from depression".
The married father of one, had worked for the DSTL for 26 years, most recently as a senior principal scientist.
Cleaning job rejection
He was suspended after a contractor he had been working with on the Typhoon-Joint Strike Fighter project complained about bullying.
The inquest at Wiltshire and Swindon Coroner's Court in Salisbury heard the allegations had come as a complete surprise to him but he had been planning to take his former employer to an employment tribunal.
A day before he disappeared he had also found out that his application for a cleaning job at Salisbury District Hospital had been turned down, the inquest was told.
Dr Holmes's body was discovered by police in April in a field near his home in Salisbury.
A post-mortem examination found that he had died from drinking anti-freeze.
'Broken-hearted'
Susan Holmes, who also works at DSTL in Porton Down, told the hearing her husband "lived and breathed his work" - working 50 or 60 hours every week - and he had been "shocked" to be suspended.
"He gave 110% and he expected everyone else to," she said.
"When he received the letter of complaint he was shocked and he was very shocked that his colleague thought he had been bullied and there had been no intimation before that.
"He said a couple of times 'don't worry I'm not going to do anything silly'.
"He was just broken-hearted about not being part of the MoD - it had been so much a part of his life."
Wiltshire and Swindon Coroner David Ridley recorded a conclusion that Dr Holmes "took his own life while suffering from depression".
After the inquest, a DSTL spokeswoman said: "DSTL takes the welfare of its staff very seriously and has a number of systems in place to support them.
"Our thoughts at this time are with Richard Holmes' family."