Toilet pun calendar bid for Lydiard Millicent church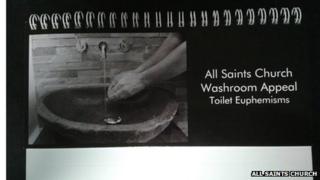 A church is raising money to install a new loo by selling a calendar based on toilet puns.
The congregation at All Saints Church in Lydiard Millicent, Wiltshire, is aiming to raise £50,000 to replace an old boiler and install a washroom.
The Reverend Tricia Roberts said: "We were joking around and suddenly came up with this idea for toilet euphemisms."
She said they planned to put the new facilities at the back of the church building, which is Grade II* listed.
'Potty'
Ms Roberts said: "It's a problem when we have a service like a wedding or a funeral and people have to travel a distance as we haven't got any washroom facilities.
"And although we have a very hospitable pub in the village, it's not always open. We have a potty at the back of the church for younger members."
She said each month of the calendar had its own euphemism and featured a photograph using members of the congregation.
"We started with 'pull the chain' and got the bell ringers to pull the chains. And for February, we have a photo of a couple who are 'sitting on the throne' with crowns on their heads."
She said other months used various well known sayings including "spend a penny", "the little boys room" and "powder your nose".