Wiltshire Air Ambulance costs to triple after end of deal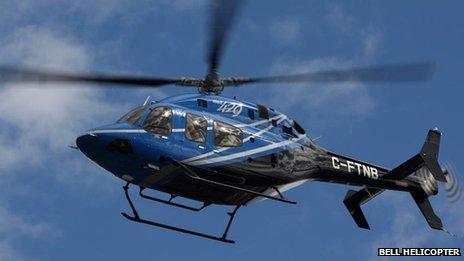 A new air ambulance forced into service after government changes will cost three times as much as its predecessor.
For the past 20 years, a single helicopter has been shared by the Wiltshire Air Ambulance Charitable Trust and Wiltshire Police.
But this will stop after the force was told by the Home Office to use aircraft provided by the National Police Air Service (NPAS).
The air ambulance costs will now be £2.5m a year, instead of £700,000.
The charity said that despite the sharp rise, it is confident it will be able to meet the extra cost.
The charity's trustees have announced they will lease a new Bell 429 helicopter, which will be the first to operate as an air ambulance in the UK.
It will come into service by 1 December, when the lease on the current 12-year-old aircraft expires.
Local police helicopters are being replaced with the national service of 25 aircraft, operating from 23 bases.
All police forces in England and Wales will have to join NPAS by January 2015, which is expected to save £15m a year.
The Wiltshire Air Ambulance Charitable Trust (WAACT) has now signed a 10-year contract with Heli Charter Ltd.
It described the Bell 429 aircraft as the "world's newest and most advanced" light twin-engine helicopter in service with a top speed of 150 knots and a range of 400 miles.
WAACT chairman Richard Youens said: "The new Conservative administration took a view that the police should have a National Police Air Service and that really put the kibosh on any long-term relationship with the police going on.
"We are sorry to see the police go and we thank them very much for their collaboration with us over the last 20 years."
He said the end of the partnership marked a "new era" for the air ambulance and they have taken the opportunity to "significantly improve" the service with state-of-the-art equipment at a "very competitive cost".
"It is really the beginning of us being on our own," Mr Youens said.
'With the loss of our collaboration with the police we will need to fund the full cost of providing the air ambulance alone.
"However, I can say with confidence that thanks to the passionate support the charity receives from so many people in Wiltshire, the necessary funds, about £2.5m annually, will be found."
The charity said it raised £1.94m last year.
The contract with Heli Charter covers the provision, maintenance and flying of the Wiltshire Air Ambulance for up to 19 hours a day, every day.
Paramedics and other medical support will continue to be provided by with South West Ambulance Service NHS Trust.
Related Internet Links
The BBC is not responsible for the content of external sites.