Chapel near building site in Swindon to be 'preserved' following fears it may collapse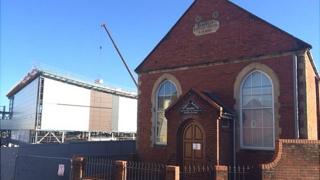 An 18th Century chapel in Swindon is to be preserved following fears it may collapse due to nearby building work.
Rehoboth Baptist Chapel on Prospect Hill was forced to close on 24 January after cracks appeared in the walls and ceiling and it was deemed unsafe.
Excavation work on the nearby Regents Circus development, a £50m retail and leisure complex is being blamed.
Building company ISG said it was taking a series of "temporary and permanent measures" to preserve the chapel.
According to Richard Cooke, deacon of the 130-year-old chapel, cracks up to two inches (5 cm) wide have appeared in the outer walls of the building.
Local residents are also claiming their properties have been affected by the heavy excavation work at the former Swindon College site.
Conservative MP Robert Buckland described it as "very worrying" and said he had written to the contractor, the council and local businesses and residents to set up a meeting for next week.
"To hear stories about cracks appearing as a result of development is alarming," he said.
"I think businesses are owed an explanation as to what's going on and if there has been damage there needs to be some redress."
'Preserve the structure'
An ISG spokesman said they would "welcome the opportunity to take part in the public meeting".
"We met with the chapel minister and trustees earlier this week to explain both the temporary and permanent measures that are being undertaken to preserve this important structure for the future," he said.
"We have also met with residents and are scheduled to meet with a local business by the end of the week and would urge any of our neighbours, who believe they may have been affected, to contact us so that we can quickly and fully investigate any concerns."
The Regent Circus development is due to be complete by the autumn and will include a six-screen cinema, a supermarket and eight restaurants.