Stourhead's Axminster carpet sent off for £36,000 revamp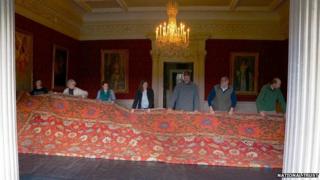 The largest carpet in a Wiltshire stately home has been sent off for nine months of conservation work which will cost £36,000.
Dating from the 19th Century the Axminster carpet is the oldest at the National Trust property Stourhead.
It was rescued by servants in 1902 from a fire which destroyed the central part of the house.
The carpet was then cut to fit the room's new layout and some cut pieces have now been found underneath.
Alison Lee, from the National Trust, said the carpet measures 32ft by 28ft (9.7m x 8.6m), and at somewhere between 40-60 stone (254-380kg), it is "quite a weight".
She said: "We got a real idea of what the servants at Stourhead felt when they had to take the carpet out during the fire.
"This is the oldest carpet in the house, and the only one that belonged to the family."
"It's a rare, original Axminster. It has been in need of support for such a long time, and we haven't had the ability to deal with it," she added.
After the carpet was lifted a high quality polished floor was found underneath which visitors will be able to see for the first time.
The cost of the work has been funded by a grant from the People's Postcode Lottery.
Conservators at the Tetley Workshop in Devon will clean the carpet, add support to the damaged areas and restore some of the losses such as splits and holes.