Anne the elephant new home plans criticised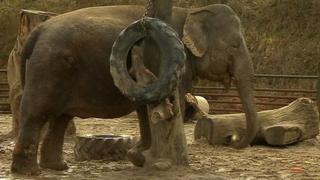 Plans to build a permanent home for a rescued circus elephant in Wiltshire, have "dismayed" campaigners.
Anne the elephant was moved to Longleat Safari Park after Animal Defenders International (ADI) secretly filmed her being abused by her groom.
A sanctuary for up to four elephants was planned but the safari park has now "modified" it into a haven for Anne.
ADI said they were "dismayed" that Anne will be alone but Longleat said another elephant could do more harm then good.
'Years alone'
The 58-year-old Asian elephant was moved to the safari park in April 2011, after its former owners were found guilty of causing unnecessary suffering to an elephant.
Since then more than £335,000 has been raised to create a permanent home for Anne, Britain's last circus elephant, and other rescue elephants.
But Longleat has announced its plans for a sanctuary have been "modified" to a facility which "in the long term is available potentially to other animals".
Although ADI said they welcomed "any improvement in Anne's accommodation", they said the safari park had "promised to build an elephant sanctuary, which would have provided other elephants for Anne".
"It is tragic that three years have passed and now it is being confirmed that Anne will remain alone for the rest of her life," said Jan Creamer, from the group.
"The chance of giving Anne companionship appears to have been missed."
'Find suitable companion'
But Bob Montgomery, CEO of the safari park, said experts had recommended that "Anne should live out her life alone".
"Elephants are social animals but that becomes much more subjective when you're talking about an older elephant," he said.
"And unless we are able to find a suitable companion - right age, right temperament - the concern would be that the wrong companion would do more harm then good."
Work is due to begin on Anne's Haven later this month.