Swindon's Regent Circus developers 'will fix subsidence'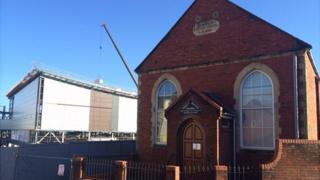 Developers of a £50m shopping and entertainment complex in Swindon said they will put right any damage to homes caused by the construction.
Residents living near the Regent Circus development claim subsidence and cracks have affected their homes since the start of the work, in April 2013.
A Baptist chapel on Prospect Hill has been closed after cracks appeared in the walls and ceiling.
At a public meeting, the developers ISG said any damage would be dealt with.
Peter Green from the Back Garden Group, which represents the residents on Rolleston Street and Cross Street, said he was "reassured" by ISG and they had "demonstrated" good intent.
'Future consequences'
South Swindon MP Robert Buckland said: "I heard the contractors say they would make any damage good.
"In my mind that means if there are cracks and consequential damage the contractor will sort them out - period."
Mr Buckland added it was not just the immediate damage that needed to be addressed but the "consequences for future insurance, etc that householders and businesses will be thinking about".
The Regent Circus development will include a six-screen cinema, a supermarket and eight restaurants and is expected to be complete by the autumn.