Honda Swindon plant jobs cut in shift changes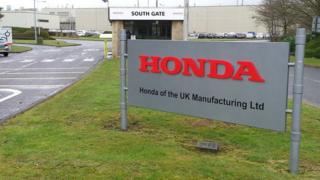 Carmaker Honda is planning to cut production at its Swindon factory, with 500 jobs under threat.
Workers were told on Monday that car plant two would be closing with the loss of 340 jobs, along with up to 160 temporary positions.
The Japanese carmaker, which opened in Swindon in 1992, made 38 compulsory and 554 voluntary redundancies last year.
Ian Howells, from Honda, said: "Over the last 12 months, we haven't seen the growth we'd anticipated."
The cuts come as the plant changed from three shifts a day to two.
About 3,000 workers are based at the South Marston plant, building the Civic, Jazz and CR-V for the UK and European markets.
'Too many cars'
But Mr Howells, senior vice president of Honda Motor Europe, said with "no increase forecast" for the next couple of years, the company must "scale our manufacturing activity accordingly".
"We've looked very closely at alternatives but we're faced with a market which at best is growing very, very slowly and we're just producing too many cars at the moment for that demand," he said.
"It's been a very difficult decision to take but we're starting with a release programme that is voluntary and if that does not progress in the way we hope we may be looking at statutory or compulsory redundancies."
According to Mr Howells, 340 "permanent associates" will go over the next two to three months along with a number of temporary staff, who were already "phased to be fully released by the end of the year".
'Very sad news'
Unite union spokesman, Jim D'Avila, said it was a "blow" that would be "very, very deeply felt".
"It's very sad news," he said.
"We were able, 18 months ago, to deal with those surpluses with just a minimum of compulsory redundancies but the likelihood is we won't be able to achieve that this time round."
As well as cutting shifts, Honda is also planning to move production to one line in an attempt to "improve production flexibility and efficiency".
The company said it will be entering into consultation on the proposed job cuts.