Smelly landfill site near Swindon reopens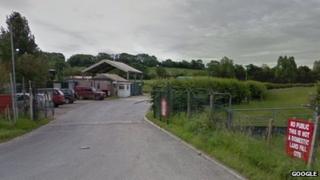 A landfill site near Swindon which was shut for being too smelly has reopened.
Hills Waste Solutions temporarily closed the Chapel Farm site after receiving 180 complaints last month.
The firm said it had installed an extra 14 gas extraction wells which has resulted in a "significant drop in complaints" about waste odours.
The Environment Agency said it had asked Hills to install "additional gas control" on another part of the site which would be completed this week.
The site was closed on 10 March after local residents complained about smells of "rotten eggs, sulphur and sewers".
'Wind direction'
Referring to some more recent complaints of odours, Mike Webster, from Hills Waste Solutions, said it was a "difficult situation".
He said: "These complaints are being investigated and information collected is being compared to the details recorded by the on-site weather station.
"In some instances the wind direction was from the south west which would have moved any potential odours in a north easterly direction and not towards the housing developments located south of the site."
He said he "appreciated that local residents are frustrated" and wanted "to assure them that we are doing all we can to reduce odours from the site".
An Environment Agency spokesman said: "We do not believe recent smells from the site are associated with the daily tipping of waste, so re-opening the landfill should not impact the actions Hills has undertaken to control odour."
'Obnoxious odours'
He said the agency was "continuing to monitor the situation" but since the 14 additional gas wells had been installed there had been "fewer complaints".
The spokesman said: "The gas wells collect the landfill gas which is then burnt in engines on site to generate electricity.
"It is this landfill gas produced by decomposing waste which can cause obnoxious odours."
Operations at the Chapel Farm landfill site are due to close permanently later this year once the site has been filled.