Fish removed from Swindon canal to prevent illegal fishing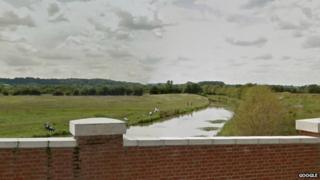 More than 1,098kg (2,421lb) of fish have been removed from the Wiltshire and Berkshire Canal in Swindon in a bid to stop illegal fishing.
Swindon Borough Council said it had received complaints about poaching but, without the resources for regular patrols, decided to remove the fish.
Contractors spent three days removing bream, carp, perch, roach and rudd from a half-mile stretch near Kingshill.
The fish will be used to re-stock other lakes in the county.
The Kingshill to Rushley Platt section of the Wiltshire and Berkshire Canal is owned by the borough council.
A spokesman for the authority said removing fish from the entire length of the canal was the best way of tackling the problem of poaching.
'Fish crime'
"We've had several complaints about illegal fishing even though there have been signs put up there for several years," he said.
"But we have had to wait for suitable conditions to remove the fish, which is why the work is being carried out now by specialist contractors."
A spokesman for the Environment Agency said it was also "absolutely committed to eliminating illegal fishing".
"We will have no hesitation in prosecuting those who commit fish crime to the fullest extent of the law," he said.
"We urge all those who value the future of angling to report any suspicious fishing activities to us so that our teams can swiftly take action."