'Vile and cowardly' Mark Eatwell from Wroughton jailed for four years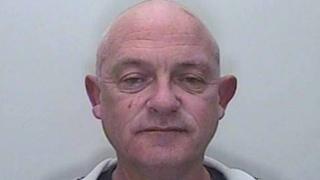 A woman from Wiltshire who suffered a "horrific and sustained attack" by her ex-partner is encouraging other victims not to suffer in silence.
Jayne-Anne Murray was visiting Mark Eatwell's home to spend time with his son when the attack happened.
Police said she was kept prisoner there and assaulted by the 44 year old.
Eatwell, from Wroughton, was found guilty of actual bodily harm (ABH) and false imprisonment. He was jailed for four years at Swindon Crown Court.
Ms Murray praised the support she had received from Wiltshire Police from the start of the investigation to giving evidence in court.
"I urge people to report abuse - don't put up with it - no-one has the right to do that to you," she said.
"I want all the victims of domestic violence to know that when you do come forward and report the abuse you will get the help you need."
Speaking after the case on Wednesday, Det Con Sonia Marsh said the behaviour of Eatwell on the night of the incident in April 2013 was "vile and cowardly".
"Jayne-Anne Murray suffered a horrific and sustained attack, which has had a huge effect on her life.
"The courage she has shown throughout the investigation and during the court case is admirable," she added.