Swindon A419 and M4 solar sound barriers design approved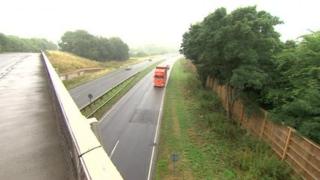 A scheme using solar panels which double up as noise barriers could be used on two busy roads in Wiltshire after the council approved the design.
Swindon Borough Council will now ask the Highways Agency for approval on the plan to install the panels on the A419 dual carriageway in Swindon and the M4.
The council said it would decide how to fund it "at the approval point".
It is also hoped electricity generated could help to pay for the scheme, which may be the first of its kind in the UK.
A council spokesman said funding the schemes could come from "council investment, private investors, the new Swindon renewables co-operative or a mixture".
He said the solar sound barrier for the M4 "could operate commercially" and would be "fast tracked".
He added if they received approval for the design in the next three months then they hoped to start construction in 2015.
This technology is already in use in Germany, Austria and Italy.