Double decker bus catches fire in Marlborough, Wiltshire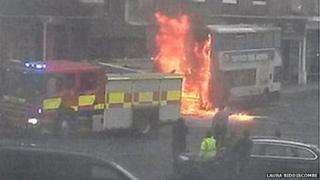 Passengers fled from a double decker bus after it caught fire in Wiltshire.
The blaze was spotted when the bus was in High Street, Marlborough, at about 08:30 BST. Flames soon engulfed the rear of the vehicle.
A fire service spokesman said the driver had suffered from the effects of smoke inhalation but there had been no other injuries.
The High Street has been closed and Wiltshire Police said a diversion has been put in place.