Dauntsey railway bridge prepared for demolition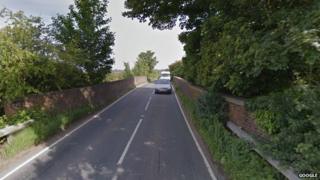 Engineers have begun preparing to demolish a railway bridge in Wiltshire in a £45m rail electrification project.
The bridge on the B4069 at Dauntsey Lock has been closed for an upgrade as part of Network Rail's electrification of the Great Western railway line.
Nigel Fenn from Network Rail said: "We will plan to drop the centre span of the bridge in the very early hours of tomorrow morning."
The bridge has been closed for two months and is set to re-open in August.
Since the bridge closed, residents and businesses have complained to the rail operator and council about the disruption it has caused.
"Once we've cleared the rubble and made our preparations, we'll then start to replace the centre span and that work will go on to the very early hours of Tuesday morning," added Mr Fenn.
He also confirmed the project was running on schedule, with the bridge set to re-open on 7 August.
Concerns had been raised by people living nearby who believed it would take up to a year to complete.
Since March, engineers have been working to divert telephone lines and utilities such as gas and water pipes off the bridge.
Mr Fenn added: "It is an old structure, 100-plus years old, and significant pre-works are required until we can remove the centre of the bridge and then start to replace and reinstate it."