Honda Swindon: Compulsory redundancy numbers fall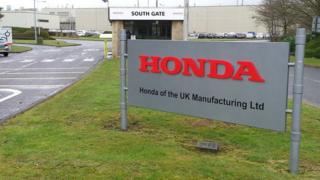 The number of staff at carmaker Honda in Swindon facing compulsory redundancy has fallen by 40, to 109, following talks between unions and management.
In April it announced plans to cut 500 jobs including 160 temporary posts at South Marston due to falling sales.
The company said 191 people had applied for voluntary redundancy but it was hopeful this number could rise.
A spokeswoman said once all the options had been exhausted formal redundancy procedures would start next week.
Jim D'Avila, from the Unite union, said he was pleased 40 jobs had been saved but said too many were still under threat.
'Incredibly concerned'
"Honda are adamant they have a long-term strategy to put work out to contractors," he said.
"That costs them less and so we're incredibly concerned that 109 compulsory redundancies are happening.
"We don't believe that should happen and we are concerned for the future if this strategy of Honda's continues."
About 3,000 workers are based at the South Marston plant, building the Civic, Jazz and CR-V for the UK and European markets.
The Japanese carmaker, which opened in Swindon in 1992, made 38 compulsory and 554 voluntary redundancies last year.
This year as well as cutting shifts, Honda is also planning to move production to one line in an attempt to "improve production flexibility and efficiency".