Salisbury Crematorium: Apology over removal of plaques and roses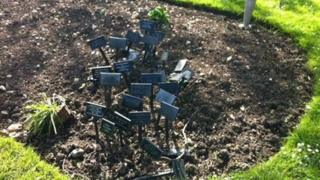 A council has apologised for any emotional distress caused by its decision to remove memorial roses and plaques from a Wiltshire crematorium.
Salisbury City Council said it was forced to take action because deer had been eating the plants.
Some families say they were not properly consulted about the change.
The authority said it wrote to all those whose plaques would be affected and hoped "to minimise the emotional upset for everybody".
Chris Judd from Salisbury bought a plaque and rose bush at Salisbury Crematorium when his father died several years ago.
After his mother died in January he scattered her ashes around the same site.
'Dirt and weeds'
However, a few weeks later he received a letter informing him the plant has been dug up.
It said the plaque would be removed, and that he should collect it if he wanted it.
"We could have been given the option of taking the plaque before and we could have scattered the ashes on Dad's plaque and that would have been more fitting," he said.
"It's not as emotional now; it's just dirt and weeds growing over."
City clerk Reg Williams apologised for any upset caused and said the council realised it was not "an ideal solution".
More than 700 rose bushes were bought by bereaved families between 2001 and 2011 and planted in the memorial garden
But, according to the council, the plants have been "severely and permanently damaged" by deer.
In 2013 the decision was made not to cull or relocate the animals.
Since then the animals have continued to eat the remaining memorial roses in the crematorium grounds, as well as flowers left on graves in the cemetery.
Councillors subsequently agreed a compensation scheme, costing the authority up to £8,500.