Swindon school bans fish from lunchboxes over allergy fears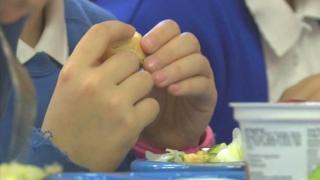 A primary school in Swindon has banned fish because a pupil has a potentially fatal allergy.
Robert Le Kyng Primary School has also changed its menu to protect the student who suffers a severe anaphylactic reaction to any contact with fish.
Some parents feel they have not been consulted and the whole school should not be affected "for one child".
But head Susan Smith said: "This is a life-threatening issue, anything less and we wouldn't need to be as drastic."
'Life at stake'
Letters were sent home with all 416 pupils asking parents to avoid putting fish and fish products in lunchboxes, at the end of March.
Ms Smith said the decision to remove fish "from the school environment" had not been taken lightly.
"We do have children that have allergies but not as severe as the one we've taken this step for," she said
"It's not just ingesting it, it's the smell of it cooking and having it in the environment - that's the issue for the child.
"And it is life threatening - her life is as stake if we don't get things right."