Wiltshire PCC Angus Macpherson 'improving' after heart attack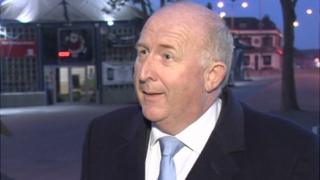 Wiltshire's Police and Crime Commissioner Angus Macpherson is now described as "stable and improving" after suffering a heart attack last week.
The 60-year-old was taken to hospital by air ambulance after being taken ill in Trowbridge on Friday morning.
He remains in the intensive care unit at Bath's Royal United Hospital
The county's Chief Constable Pat Geenty said Mr Macpherson was "sitting up in bed and talking to his family".
The commissioner became ill during a meeting to discuss his annual report with local MP Dr Andrew Murrison at his constituency offices on the White Horse Business Park.