Salisbury Cathedral's peregrine falcon chicks are ringed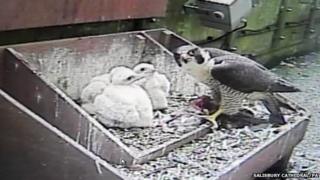 The first peregrine falcon chicks to have hatched at Salisbury Cathedral in more than 60 years have been ringed.
Three chicks hatched last month in a nesting box installed with a webcam halfway up the cathedral's 123m (403ft) spire, the UK's tallest.
Ornithologist Ed Drewitt has now weighed and measured each chick and given them a unique colour-ring.
The ancient cathedral is "the ancestral home of the 'urban' peregrine", according to the RSPB.
'Spectacular'
Phil Sheldrake, conservation officer, said records dating back to the mid-1800s showed the birds were present at the place of worship.
"It has been brilliant working with everyone at the cathedral to bring back such a spectacular bird to the country's most spectacular cathedral", he said.
"After 61 years, this is a fantastic result. Let's hope they are here to stay for many years to come."
The chicks have been named Pip, Peter and Paula and are expected to fledge in the next four weeks and remain around the cathedral for a further four weeks.
It is hoped they will return in future years to nest in the box they were born in.
Gary Price, clerk of works, said: "I feel privileged to have played a small part in securing the peregrines' presence here at Salisbury Cathedral for many years to come.
"It's reassuring to know that a few small steps by various people can make all the difference to the local wildlife."