Anthony Slee left disabled after untreated infection spread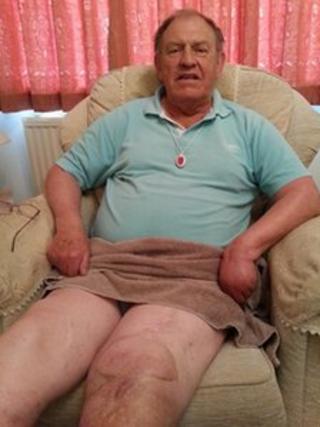 A man has been paid a six figure sum by Bath Royal United Hospital (RUH) after an untreated knee infection spread and left him in intensive care.
Anthony Slee, 73, went in to hospital with knee pain. He was told he had gout and that it would soon clear-up.
But within days he was suffering from septic arthritis, multi-organ failure and septicaemia. He underwent 18 operations and now has a shortened leg.
The RUH has apologised to Mr Slee for the "suffering and distress".
"Following his admission to hospital in February 2010... we have agreed a settlement in relation to his claim," the RUH said.
The hospital had phoned and left a message on Mr Slee's answering machine asking him to contract the hospital to "discuss his test results" but message was not picked-up.
'Knee cap removed'
Days later after his condition deteriorated he was admitted to intensive care.
Over the next few months he had a total of 18 operations on his left knee, wrist and upper arm and a number of procedures to help treat the infection.
He was then transferred to Frenchay Hospital in April where he underwent a nine-and-a half hour operation which saw his knee cap removed and the bones in his left leg fused together.
Mr Slee was eventually left with a shortened leg, unable to drive, and has difficulty with many daily tasks.
Despite strenuously denying liability for his injuries, the RUH NHS Trust agreed an undisclosed six-figure settlement.
Emma Rush, from solicitors Irwin Mitchell, said Mr Slee's quality of life had been significantly reduced due to the nature of his injuries.
"We hope that Anthony's case will ensure lessons are learnt to help improve future care so that no one else has to suffer the traumatic ordeal that Anthony has," she said.