Swindon murder investigation: Tributes paid to Aulton Tom Rogers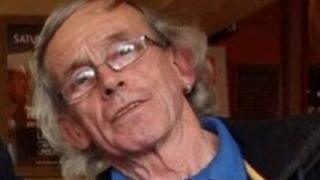 Relatives have paid tribute to a "loving" and "well liked" man who was fatally stabbed in Swindon.
Aulton Thomas Rogers, 60, known as Tom, died from multiple stab wounds after an attack on a cycle path near the town's train station on Thursday.
Mr Rogers worked at the Woodlands Edge pub on Midwinter Close and left there at about 22:30 BST.
Police want anybody who saw him to contact them. They said there was "no apparent motive" for the attack.
'Hasn't sunk in'
His son, David, 35, said he was a sociable and well liked man who worked hard at the pub where they would often meet.
"It hasn't sunk in that my dad is gone and that I won't be able to spend time with him anymore. I really feel his loss and will always miss my dad," he said.
Posting on Facebook, Mr Rogers' niece Stacey said: "I can't stop thinking of you Uncle Tom Rogers. This is so hard. You were such a loving man. We all love you so much.
"Nothing will stop this pain until I see him again. It's so hard knowing that he didn't die naturally and that someone actually took his life.
"It hurts so much. I don't even feel like this is real life."
His brother Roy, who lives in Australia, described it as a "very difficult time" for himself and his family and said it is "family and friends that help pull you through".
Mr Rogers was not known to Wiltshire Police and it said officers are now building "a bigger picture of his lifestyle".
His body was found about 100m from the railway station entrance just after the underpass. A bicycle was also found at the scene.