'Lost' World War One Christmas gifts sold at auction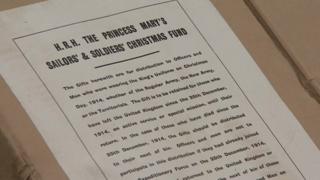 Christmas gifts that failed to make it to troops fighting on the Western Front in 1915 have been sold at auction.
The 100-year-old parcel of presents from the Royal Family was opened for the first time by Lady Emma Kitchener at an event in Wiltshire last month.
Sealed inside were 80 brass embossed tins containing a bullet pencil and a Christmas card from Princess Mary.
Two of the Princess Mary gift boxes were sold by Dorset auctioneers Onslows on Wednesday for £365 each.
The remaining boxes are due to be auctioned at the end of the year.
Auctioneer Patrick Bogue said the owner of the boxes, which were discovered in Ireland a few years ago, had X-rayed the parcel but had been "very careful not to open it".
But to coincide with the centenary of the outbreak of hostilities, he said the owner had decided it "should be opened".
Lady Emma Kitchener, the great-grand-niece of Lord Kitchener - the face of the war's "Your country needs you" recruitment posters - was invited to do the honours at a history festival in Wiltshire in June.
Inside they discovered brass Christmas gift boxes and cards with the message: "With Best Wishes for a Victorious Year from Princess Mary and friends at Home 1915".
"I think for many of these soldiers it was the very first time they had ever been away from home for Christmas - which in itself is scary - and to be in the trenches must have been unimaginable," said Lady Kitchener.
"I think to receive something like that was a real puff for them."