Horatio Chapple death: Polar bear attack verdict delayed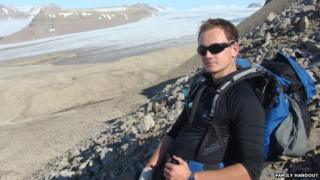 A coroner's verdict on the death of a young explorer mauled by a polar bear will be delivered next week.
Horatio Chapple, 17, from Salisbury, died while on an adventure holiday with the British Schools Exploring Society (BSES) in August 2011.
Wiltshire and Swindon's assistant coroner has adjourned the inquest and will deliver his verdict next Friday.
Four others on the trip were seriously hurt before the polar bear was shot dead by one of the group leaders.
'Deficiencies and failures'
At the five-day inquest on Friday, the lawyer for the Chapple family said every aspect of protecting Eton schoolboy Horatio from polar bears was "defective", including the trip-wire alert system, pen flares, rifle use and a lack of bear watch.
During the week, the coroner heard from Horatio's parents who said they "believed and trusted" he would have the equipment needed, such as a pen flare.
But the inquest was told there were insufficient numbers of the devices, used to shoot flares to frighten approaching bears.
A leader of the Arctic expedition also admitted "deficiencies and failures" with the equipment, including his rifle which failed to fire when he tried to shoot the bear.
The court was also told the bear would have behaved "aggressively and unpredictably" due to pain suffered by its worn-down teeth.
Horatio suffered fatal injuries to his head and upper body in the attack after being dragged out of his tent where he was sleeping.
The other injured men were trip leaders Michael Reid, 29, from Plymouth and Andrew Ruck, 27, from Brighton but who now lives in Edinburgh.
Trip members Patrick Flinders, 17, from Jersey, and 16-year-old Scott Bennell-Smith from Cornwall, were also hurt in the attack.