Trowbridge family fall ill from 'mystery smell'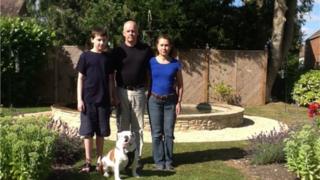 A family in Wiltshire say gas caused by nearby sewage repairs has made them ill, despite no traces of it being found in various tests.
Graham Softley, from Trowbridge, said his family and neighbours had suffered vomiting, dizziness and memory loss.
Wiltshire Fire and Rescue agreed there was a smell, and that eyes and throats were being irritated, but was unable to find the cause.
Wessex Water said tests for "sewage odours" had come up with "no results".
A contractor is carrying out the sewage work near Mr Softley's home, on behalf of Wessex Water.
"There is no evidence to suggest that it has caused any health problems," a spokesman for Wessex Water said.
'Metallic taste'
But Mr Softley said the problem was so bad his family moved to a hotel two weeks ago. He said the smell was still lingering at home and would not go away.
"The gas has a metallic taste, almost like blood, and has a copper smell," he said.
"It builds up in the room gradually after we've had our windows open and it gets to a point where it's like having natural gas on in a room.
"You can feel it, you can smell it, you can feel it and you can walk through it.
"It's very intense and you get the symptoms very quickly after that of feeling sick, disorientated and dizzy."
Their house is next door to a sewage pumping station and is in a small street of three homes in a housing estate.
Other neighbours have also said they had suffered migraines and nausea.
A number of tests have been carried out by Wessex Water and Wiltshire Fire and Rescue Service.
Both concluded there were not any dangerous gases coming from the sewage work.
Wiltshire Fire and Rescue area manager, Jim Mahoney said: "We did call in support from a regional resource with specialist equipment and they didn't find or identify any particular gases."
Wiltshire Council's environmental health team has not found any traces of gas but is continuing to carry out tests.