Averies Recycling fire may 'burn for days'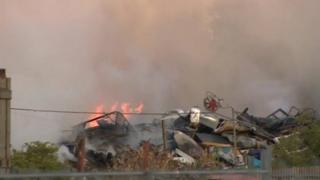 A fire at a waste recycling site could continue burning for several days, Wiltshire Fire and Rescue Service has said.
About 1,000 tonnes of waste caught fire at Averies Recycling in Marshgate, near Swindon, just before 18:00 BST on Monday.
Overnight, more than 100 firefighters were involved in working to protect a nearby storage site for gas cylinders.
Firefighters are continuing to damp down at the scene.
"It's going to be a long job, unfortunately - one of those areas where we frequently have to monitor and let it burn out naturally," said Simon Routh-Jones, chief fire officer.
"We are looking at days, if not into next week."
Air quality tests have shown the smoke from the fire is not harmful to the public.
A spokesman for Public Health England and the Environment Agency said: "Today's monitoring shows brief spikes in levels of particulate matter but, overall, levels are below the point at which they may impact public health."