Mystery smell family forced to camp in back garden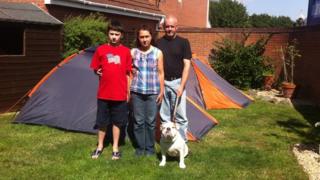 Members of a family from Wiltshire have resorted to living in tents in their back garden because of a mystery smell in their home.
The Softely family from Trowbridge said the odour has caused them to suffer nausea, memory loss and black outs.
Despite visits from environmental health officers, the family said they will not be returning until the cause of the problem is identified.
Other agencies have carried out tests but none has reported any issues.
'Gassy odour'
"[Although] the sewage and musty smell has gone we've still got the same gassy odour in our house... it's really strong and makes you feel quite sick," Graham Softley said.
"If it wasn't we'd be back indoors but it's still coming in and we're still trying to find where it is coming from."
He said the family are able to spend short periods of time indoors but they will not risk sleeping inside.
"You just don't know what will happen when you're asleep. We just don't know how safe it is."
Work on a nearby sewage plant finished last Friday.
"The [sewage] smell went within two days of them finishing and the gassy smell has dissipated.
"But the more you use taps, toilets and the shower the more this smell come up.
"In the meantime, we'll try to find some more professionals to pay for more tests so we can identify it."