Averies Recycling fire smoke 'likely to increase'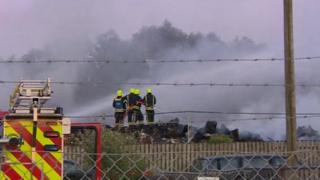 Public health officials have warned there could be an increase in smoke from a recycling site fire in Swindon.
Firefighters have been at Averies Recycling Plant since about 18:00 BST on Monday when it first broke out.
Crews will continue to break down the large piles of waste, which they said was likely to create more smoke.
Several tonnes of rubbish have been removed but the large volume of smoke has forced residents to shut windows and doors of their homes.
Dr Mark Evans, from the Avon, Gloucestershire and Wiltshire centre of Public Health England, said: "If people need to be outdoors in the Swindon area, they are advised to avoid areas affected by smoke or ash or to limit the time they spend in them.
"Some of the substances present in smoke can irritate the lining of the air passages, the skin and eyes."
Firefighters expect to be at the site into next week.